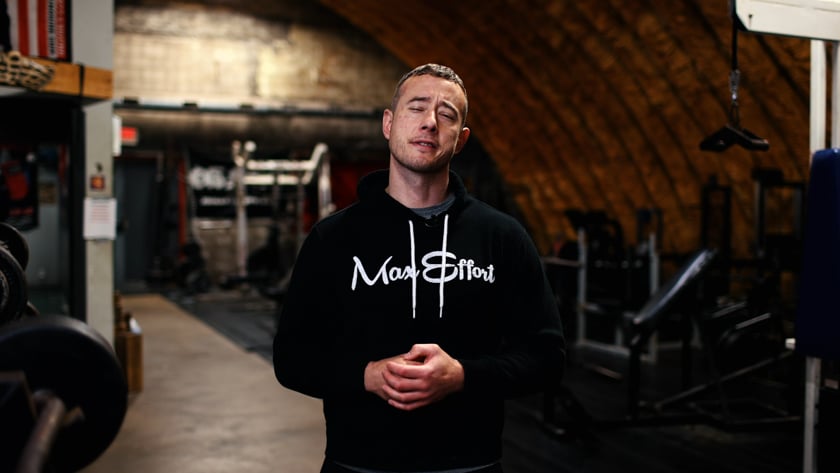 "Join my team so I can directly help you on a daily basis get closer to your goals and transform your body and mind for optimal performance."
Daily Elite Wrestling S&C Programming
Daily Conditioning Workouts
Recipes and cooking tutorials
EXCLUSIVE MONTHLY PROGRAMS:
Youth S&C, Shred for fat loss, Pump for growth
COACHES CORNER:
interviews and features with elite athletes and coaches
VIDEOS for every movement of every workout
WEEKLY CHALLENGES:
see how you stack up against all of our team on the leaderboards
I have dedicated my career and entire adult life to helping athletes maximize their potential. Through my position at the Ohio RTC and my world renowned facility The Old School Gym, I have worked with elite athletes of every level and my ebook programs are utilized by wrestling coaches and clubs around the world.
Maybe you have already been following my training tips on social media or followed one of my ebook programs.
It's time to take your training to the next level.
I have built this platform to function the same way as if you hired me as your personal coach in the gym or as the strength coach for your team.
Your membership will give you all of the tools you need to maximize your potential, the convenience to utilize my guidance no matter where you train or live, and the accountability of being a part of a dedicated community.
ABOUT COACH DUSTIN MYERS:
I served as head S&C coach for The Ohio state University Wrestling team from 2014-2018 and helped OSU win 3 Big10 titles, 2 NCAA runner up, and the only team NCAA Championship in program history. I've trained champion athletes at the youth, high school, NCAA, World and Olympic level.
Certified Strength & Conditioning Specialist
OWNER & FOUNDER OF OLD SCHOOL GYM
The Ohio Regional Training Center S&C Coach since 2012
FOUNDING PARTNER OF MAX EFFORT MUSCLE
S&C expert contributor and consultant for Flowrestling
"I highly recommend Coach Myers' Strength and Conditioning plan.  I have known him since coming to OSU and he has helped me and countless elite athletes reach their goals on the mat through improving their strength and endurance."
Logan Stieber
2016 World Champion, 4 x NCAA Champion,   4 x Big10 Champion
"Whether I was cutting weight for 61kg or bulking up for 65kg, Coach Myers had my strength at an all time high!  I've never felt stronger and more conditioned on the mat."
Reece Humphrey
3 x US Open Champion, 3 x USA Wrestling World Team Member, 2019 USA Wrestling Coach of the year
"Coach Myers was the strength coach for the Ohio state Wrestling team when I arrived as a freshman. I immediately bought in and he has changed my life for the better ever since. His wrestling strength program helped me compete at a higher weight and made me stronger and more efficient on the mat. He has spent countless hours with me and other athletes perfecting his program."
Kollin Moore
US Open Champion, U23 World Silver medal,           4 x NCAA All-American
More Praise for Coach Myers:
"Coach Myers was instrumental in me reaching my full potential as an athlete. He is top notch at pinpointing the areas where an athlete needs physical improvement. Additionally, his ability to relate to people is what really sets him apart. For any young aspiring wrestler, his training regimen can make the difference."
Tommy Rowlands
2 x NCAA Champion, 4 x All-American          2 x Olympic Alternate
"Coach Myers is hands down one of the best functional strength coaches I have worked with. He has a wealth of knowledge and experience in working with some of the best athletes in the world!"
Brandon Wynn
Team USA Gymnast, World Bronze Medalist
"Coach Myers made me plan that was perfect for me, and worked with me every step of the way. I pushed harder in my lifts and conditioning than I had in years. He helped me realize that I had put an imaginary cap on myself and helped me break that cap."
Amar Dhesi
Canadian Olympian, NCAA All-American
COACHES will have access to the same programming as my elite athletes. No more figuring out how to change up workouts during different times of the year. Your membership will feel like you have added me to your training staff!
ATHLETES will have daily guidance and regular contact with a world class strength coach.
PARENTS will learn exactly what their athlete needs to progress - in the weight room, in the practice room, and in the kitchen.
GYM WARRIORS can learn how to train like an athlete and have a variety of different programs to follow every month.
I break down all workouts and techniques in daily videos
This site includes a "Starting Strength" program to build a solid base and bridge the experience gap between the novice and elite athlete.
All members will be able to upload their challenge results to our private team on the Challenge Me App.  See how you stack up against other Coach Myers members from around the globe on the leaderboards and interact with each other for motivation, competition and feedback.
Each week I will post a topic that will be discussed in a seminar format.  These topics may expand on elements of the current training protocol or be relevant to the time of year. You will have the chance to contribute questions ahead of time and then will have a zoom link to join the webinar live.  All members will have access to past presentations or any one they miss.  This is a great opportunity for you, your coaching staff, and your athletes to learn from me on a regular basis.